The study code is

here

and the changes are

HERE



Repeat and exam period, sign up for exams,

here it is

!
Retake Exam:



An exam designed to improve the result of a successful test or retest within the same test period.

The third and subsequent re-entry exam for the same subject is the same as the re-entry examination, regardless of whether it is charged at the time of appointment;
Distance education
Due to the COVID situation, as a main rule, all our educational activities (lectures, practices, laboratories) will be organized via distance education, managed online.
• For all our students, before the study activities, the lecturers will inform you of the exact time of the study activity, the requirements, the tasks, and the deadlines. They provide you with downloadable learning materials, videos, etc. Regarding the laboratories, videos and/or online material about the measurement tasks, setups, and measurement reports will be available.
• For those students, who will be staying in Hungary and will be able to attend in person, the academic staff will provide personal consultations, which usually take place at the regular course time. We also offer optional demonstrative laboratory measurements.
• For those students, who are not present in Hungary in person, academics will provide online consultations, typically arranged personally (due to the time zone differences).


2020/2021 1-st semester
Energy Conversion (BMEGEENNWEC)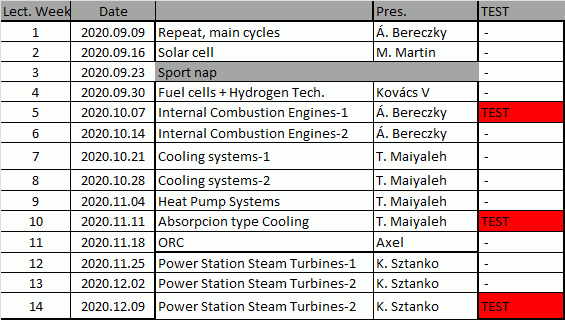 Lecture notes:
All document are on the Moodle!

All students have to arrive with a printed blank lab report !

Mark of the subject: 30+30% from the 2 midterm tests, 4x10% from the lab reports

The lab reports must be sent to the lab's e-mail address with in 2 weeks! MWM2@energia.bme.hu

Minimum requirement from the labs and tests is 40%!